You may be asking, do I really need a Turbo Roaster? What about an "Air Fryer"? Can't I just purchase that as it is more accessible to purchase from any brand?
Our answer is... The biggest difference between the 2 products are size, capacity, fan placement and material used to make the product.
First, size and capacity. Air fryer comes in many different sizes, small to big. Despite the variety in sizes, even the biggest air fryer is not capable cooking a whole chicken. While as, a Turbo Roaster usually come in 1 size and and extension to cook bigger food.
The size of the product matters as it depends how often you may need to cook, how many serving it is capable serving and what sort of recipe it can cook. As smaller air fryer can probably cook a handful of nuggets and 2 person serving of fries.
Next, fan placement. An "Air Fryer" fan is located at the bottom. As such, it is directly heating your food like how you cook on a stove. While as, a "Turbo Roaster" fan is located at the top.
Last difference is the material. According to Academy of Culinary Nutrition, "an air fryer is mostly made of plastic, with a metal basket inside. Plastics contain chemicals that disrupt our endocrine system (and plastics are destroying the environment, too). When we cook food in plastic, those chemicals leach into our food. While some air-fryers use plastic that is free of bisphenol A (BPA), one of the main hormone-disrupting chemicals in plastic, unfortunately, evidence is emerging that the BPA-free alternatives are just as damaging". While as, a turbo roaster is make with a a body of a double glass wall insulation with a minimal plastic.
So, does that means turbo roaster is a better choice? Maybe if you consider the plastic and chemical used in materials. As we are not experts, we can't say for sure, but on the surface is looks to be so.
Is using a turbo roaster or air fryer healthier than frying? Definitely if you are looking at the amount of oil used in cooking the food. Generally, all food are acceptable to eat in moderation, fry food is no exception to the rule when when using a devise that reduce the hassle of having to check on our food.
What can I do cook with a turbo roaster? Based from the our personal experience, You can roast (air fry) and bake. We tried frying, it definitely can fry, but the outcome may not be what you prefer. The Youtube below shows our cooking in a video and a written recipe will follow as you scroll downwards.
Roasted Pork
1. Pre-marinate the pork in salt and black pepper and leave it to marinate overnight (in the fridge)
2. Place the pork inside the turbo roaster with an aluminum foil as a base.
3. Set the timer to 1 hour and temperature to 250 degree celsius, and leave it to cook.
4. Once it is cook, your meal is ready to be served!
Baking Muffin
The video in YouTube is based on following the ingredient from a premixed packaging. The timer for this was set to 20 minutes and temperature to 250 degree celsius. If your premixed instructions says otherwise, you may set the timer and temperature accordingly.
Frying Sausages
1. Pour a thin layer of oil on the surface into the turbo roaster.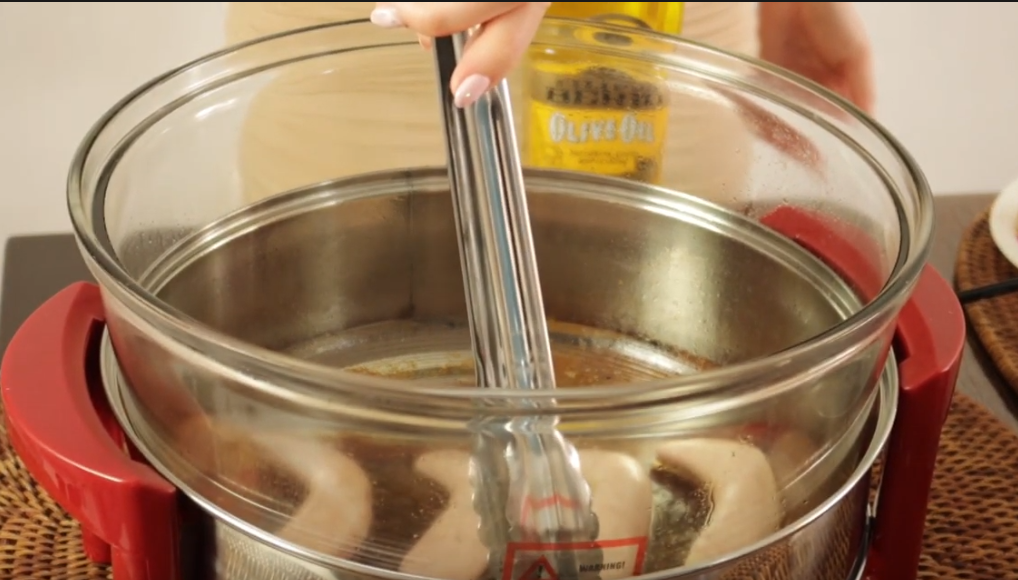 2. Place the sausages into the turbo roaster. Make sure to spread with a good amount of space like the video.
3. Set the timer to 1 hour and temperature to 250 degree celsius, and leave it to fry.
4. Once it hit the 30 mins mark, pause the frying and flip the sausages to ensure all sides have been cooked.
5. Once the timer is up, plate your sausages and your meal is ready to be served.
---
If you like to purchase some the sausages seen on the video above, check out website under "Lily's Homemade" or just click the link provide below:
https://care2u.net/collections/lily-s-homemade
For more content or update on our products, do check our social media platforms: